Mineral Resources / Metallurgical and Process Industries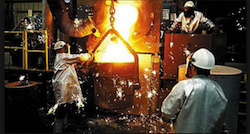 Manderstam provides comprehensive design investigation services in:
Coal, magnesium/copper production.
Steel production including mini steel mills and foundries.
Ferro magnetic materials production.
Float glass and container (bottle) glass production.
Glass tableware and ceramics.
Quarrying of limestone,
gypsum, pumice and clay.
Ordinary Portland cement production.
Ceramics, sanitary ware and ceramic tiles.
Building materials including brick manufacture, cement, metal and woodworking.
PVC extrusion of pipes and pipe fittings.
We have provided comprehensive design investigation services to companies across the globe. Contact us today to find out what we can do for your business.