Pharmaceuticals and Bioengineering
Our experienced consultants bring a range of experience to the pharmaceuticals and bioengineering industries. We've worked with clients across the globe to offer advice, guidance and insight into the development of drugs and other pharmaceuticals.
We provide comprehensive design and investigation services in areas such as penicillin production and chemical synthesis. Our vast experience spans from the downstream packaging of final dosage forms, to vitamin C production, to the manufacture of single-cell proteins (animal feed) from natural gas.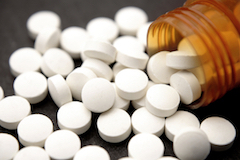 We've worked with international companies in a number of specialist areas, including:
Antibiotic production
Intravenous fluids
Penicillin
Vitamin C
Cosmetics
Our services
At Manderstam, we are well positioned to offer specialist advice on pharmaceutical manufacturing, machinery, facilities, licensing, quality control and administrative matters.
We have also undertaken studies to assess quantitative needs for certain drugs, as well as looking into production and quality control. We have helped established drug sampling programmes and carried out numerous feasibility studies.
If you'd like to know more about our pharmaceuticals and bioengineering consultancy services, contact us today. More information on specific pharamaceutical and bioengineering  consultancy projects Manderstam have undertaken can be found here.