Process Engineering and Detailed Engineering Design
The Manderstam International Group has a strong background in the oil/gas, petrochemical, pharmaceutical, cement and pulp and paper industries.
Our chemical engineers have worked for BP, Shell, Chevron, British Gas, Total, Exxon, Arco, Conoco, Phillips, Norsk Hydro, Statoil, Dong, Williams Field Services, Alyeska and Qatar General Petroleum Corporation.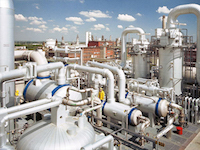 Our Process Engineering services
We provide complete process and control design services from the study and feasibility stages through to the detailed design of all mechanical, electrical, instrumentation and civil work. Thereafter, process audits of completed designs and erected plants are provided, together with commissioning and test run services.
We also specialise in safety and reliability assessment to provide independent assurance to operating companies that existing plants meet the latest safety requirements.
Contact Manderstam for more information about our consulting engineering services.